This piece by Alex Hayes was first published as the Executive Summary for the Advertising Week NY's 2021 Trends Report, created by Clear Hayes Consulting. Download the full report here.
---
Months of being kept apart has fostered a new era of collaboration across the industry. Can we seize on it as we enter the next Roaring 20s?
Ask almost anyone what they missed about the office and they'll most likely skip past the free lunches, table tennis or free range dogs and tell you it's the people. 
Marketing is a people business. In fact, it's a team sport. Show me a great CMO, I'll show you an amazing team behind them. Show me a great campaign, I'll show the dozens of people who touched it to bring it to life.  
It's also an increasingly complex game, where the rules change every day. No one person can stay atop it all. New regulations and changes in technology and capabilities are set to put even more cats among the proverbial pigeons in 2022. 
So how are you going to cope with the next onslaught?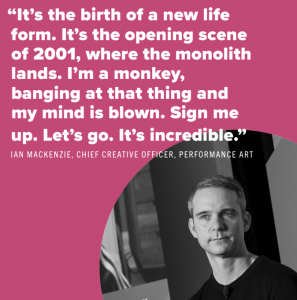 Partnership. Collaboration. Whatever you want to call it. The spirit of teaming up, working together to capitalise on an opportunity or overcome a challenge was the dominant theme for me at Advertising Week New York.
What's the solution to tackling the death of cookies? Data collaborations. How can you reach cord-cutting audiences? By creating deep partnerships with their favorite creators. 
True partnerships require trust, and while some great relationships were forged in the struggles of the pandemic via Zoom, you can guarantee those will become even more fruitful when people can look each other in the eye without being intermediated by a screen. 
Those in-person moments are where understanding is reached and spontaneity happens. Where serendipitous thinking can be encouraged and ultimately, where creativity thrives. No great creative agency is defined by its building, but what its building enables – space to collaborate – is what makes it truly special.
The best creative businesses of the next decade might have teams working flexibly, but you can guarantee they will have regular processes to bring people together at the right times to build on those connections and ideas.
If you can master the art of collaboration, and bring back some of the fun that was a hallmark of working in this industry, then your business is likely to be more creative in its approach and one that truly thrives in the next Roaring 20s.