This piece was first published in Advertising Week Europe's 2022 Trends Report, created by Clear Hayes Consulting and authored by Courtney Devereux. Download the full report here.
Consumer expectations around business values are growing, so how do we communicate our sustainability efforts while coming across authentically?
Following the COVID-19 pandemic, the shift in consumer behaviours was clearer than ever. Now, consumers are expecting brands to behave responsibly, ethically and sustainably across the board. 
Pauline Robson, Managing Partner and Head of Blink Consulting UK at MediaCom, says brands should be wary of taking advantage of consumers, or "trying to cash in on the situation we're all in."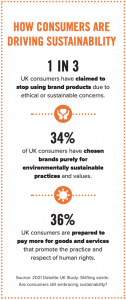 "What we're seeing now is a growing expectation paired with a credibility gap. Consumers want brands to behave ethically and responsibly, but there is this sense of cynicism there. Many feel that brands overstate their credentials when it comes to talking about sustainability and responsible behaviour," she says. 
For Robson, it is content which can be used to create authentic, credible communications for audiences. 
"Brand storytelling showcases actual changes in behaviours that brands make, rather than just a badging exercise," she says. 
Benish Mahmood, Business Director of Global Partnerships for Publicis Media, acknowledges authentic communication is the key to overcoming several challenges. 
"Everyone is on their own mission to be net zero, so we're now having to look at how we have those similar conversations but in a new way that's interesting to our audience. The first thing to be mindful of is consistent messaging."

"Being authentic means consistently talking about a certain topic. If we have a brief and a brand is interested in talking about sustainability, one of the things they need to make sure of is their commitment. Sustainability and authenticity around it is a long-term strategy. Whether it's a partnership with a publication or it's a partnership with an ambassador, it has to be for the years to come," concludes Mahmood.